Transform Your Home by Contacting the Leading Construction Contractor in Newton, MA
As a reputable construction contractor serving Newton, MA, Casla Construction has been delivering quality construction services to residential and commercial clients in the Boston area for over 15 years. Our team of experts understands the unique needs of our clients and is committed to providing creative, personalized solutions that consistently deliver the best outcomes.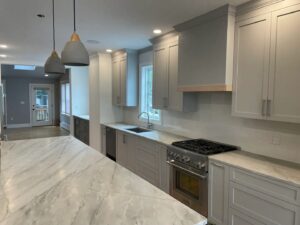 At Casla Construction, we offer a comprehensive range of construction services to meet the diverse needs of our clients. Whether you require carpentry services, kitchen addition and remodeling, basement or attic conversions, bathroom remodeling, installation of decks and patios, interior and exterior painting and staining, or mechanical, electrical, and plumbing work, we have the expertise to handle your project with precision and excellence. We are also skilled in landscape and hardscape projects, transforming outdoor spaces into beautiful and functional areas.
What sets us apart as a construction contractor is our unwavering dedication to customer satisfaction. We prioritize effective communication and collaboration throughout the construction process, ensuring that we understand your vision and goals. Our experienced team works diligently to bring your ideas to life, providing professional advice and guidance along the way.
When you choose Casla Construction as your construction contractor in Newton, MA, you can expect reliability, professionalism, and a commitment to delivering exceptional results. We pay meticulous attention to detail, using high-quality materials and employing skilled craftsmanship to achieve outstanding outcomes.
Experience the difference of working with Casla Construction. Contact us today to discuss your construction project and let our team of experts transform your vision into a reality. Trust our expertise, commitment to quality, and personalized approach to bring your construction projects to life with excellence. Learn more at: https://caslallc.com.