Building Dreams: Casla Construction, LLC's Quality Kitchen Remodeling in Newton, MA
We at Casla Construction, LLC are proud to serve our community. For more than 15 years, we have been working with people in the greater Boston area, including Arlington, Belmont, Brookline, Cambridge, Dorchester, Needham, Newton, Wellesley, Weston, and Winchester. Our focus is on understanding what our clients need and delivering creative and personal solutions.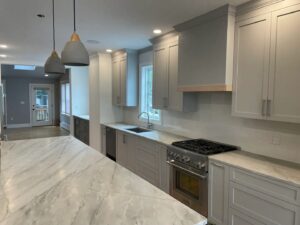 Kitchen remodeling in Newton, MA, is one of the services we take special pride in. People's kitchens are a vital part of their homes, and we enjoy making them more beautiful and functional. We work closely with our clients, learn what they want, and do our best to make their ideas come to life.
But kitchens are just one part of what we do. We also offer a whole range of services that help our clients improve their homes and businesses. Our team of experts can help with many types of projects, all done with the same attention to detail and quality.
We provide carpentry services that can enhance any space with the beauty of well-crafted wood. Our basement and attic conversions can turn unused areas into valuable living space. Bathroom remodeling can make an old bathroom feel new again. And our work with decks and patios can create wonderful outdoor areas to enjoy.
We also offer services that may not be as visible but are equally important. Our mechanical, electrical, and plumbing (MEP) work ensures that everything in a building works the way it should. And our landscape and hardscape services can turn a plain yard into a beautiful garden or outdoor living area.
We know that every project is different, and we work hard to provide exactly what each client needs. Our goal is always to give the best service and make sure that the finished project is something to be proud of.
We understand that choosing a company for construction work is a big decision. We want our clients to know that when they choose Casla Construction, LLC, they are getting a team that cares about quality and about the people we serve.
So if you are in Newton, MA or any of the other areas we serve, and you're thinking about a kitchen remodeling or any other construction project, we hope you'll think of us. We're here to help make your dreams a reality. Learn more at: https://caslallc.com.